Available September 7, 2023
Davidoff & BOYARDE Masterpiece Humidor Collection

Five unique pieces with exclusive cigars

Davidoff has collaborated with British pop art artist Boyarde Messenger for an ultra-limited Masterpiece humidor collection of only five unique pieces. Each humidor shows a captivating painting by Boyarde and comes with 50 cigars which were exclusively blended for the respective humidor only and are not available anywhere else.
The Davidoff & Boyarde Masterpiece Humidor Collection embodies the ultimate expression of personalisation for both brands and the few aficionados obtaining one of the unique pieces.
The meticulous creation process of the humidors showcases both brands' focus on finest handicraft and design.
Davidoff's elegant Dome humidor reflects the brand's verve, style and attention to detail, as its sculptured dome requires hours of skilled craftsmanship. The technical perfection of its curvature is a grand artistic innovation worthy of the finest cigars.
Boyarde Messenger hand-painted her five unique graphics on the Domes' striking grain during hours of meticulous craftsmanship. She thus transformed the humidors into objects d'art and the ultimate luxury items.
In today's ever-changing world, time is the ultimate luxury. Continuously being pushed into the fast lane, we crave to slow down and be mindful of our surroundings.
The collaboration between Davidoff and Boyarde creates the perfect opportunity to ignite the viewers' imagination so they can indulge themselves to stand back and feel a wondrous moment in time.
This project is a celebration of both Davidoff and Boyarde's shared love of art and matching values of dedication to craftsmanship and artistry.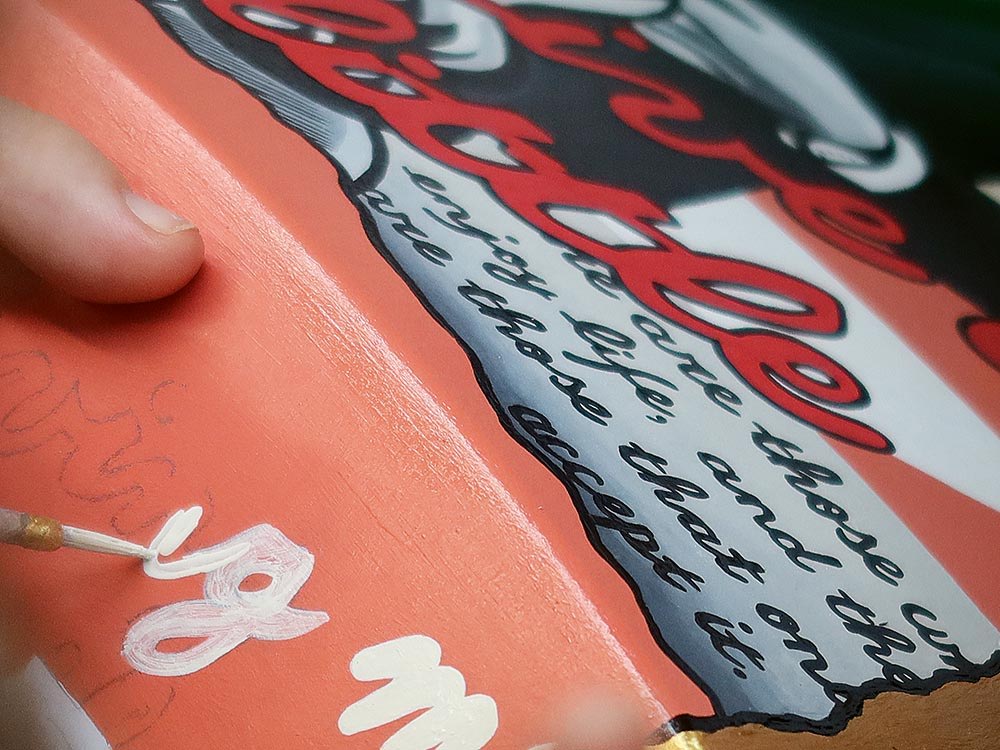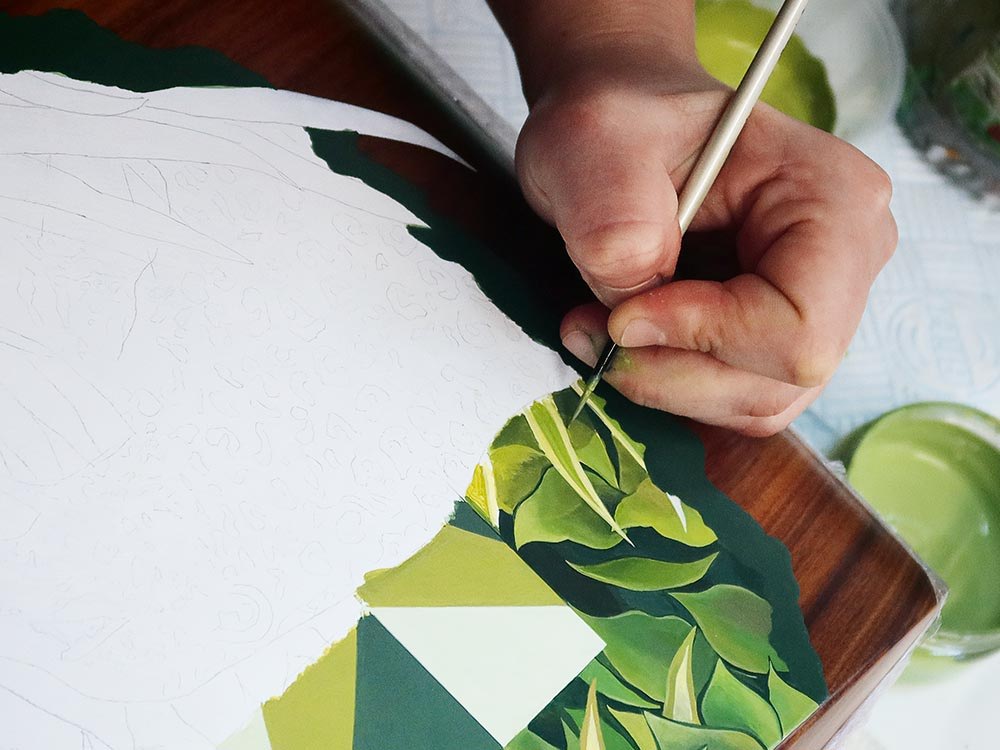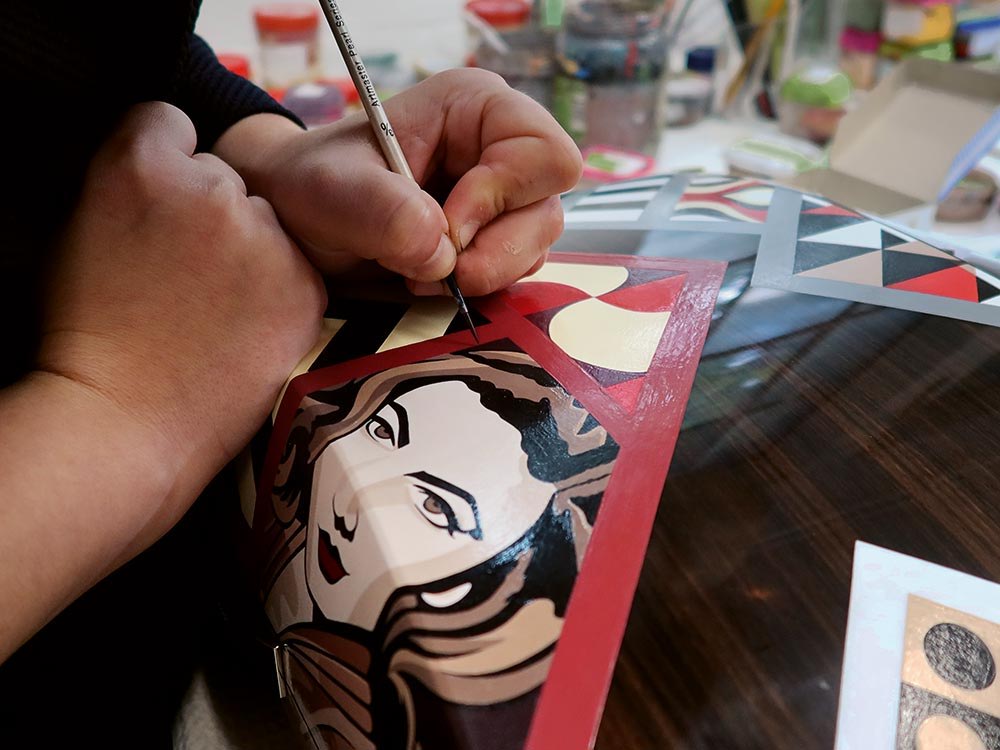 The craftsmanship behind the art

Layered excellence on Davidoff's Dome humidor

To match each humidor's high quality and longevity, Boyarde went to great lengths in all steps of her artistry. She thoroughly prepared each surface with special sand paper and priming agents to achieve a texture that would allow her paint to adhere to the wood.
Following this, Boyarde began painting her graphic on the surface over a period of 5 months, applying up to 40 layers of paint to ensure its resilience. This process of scrupulous handcraft required Boyarde to use more than 40 different brushes with nibs as small as one third of a millimetre.
Thanks to her tremendous efforts, the artwork flows seamlessly down the front and embraces the humidors' curves without interruptions from the hinges and clasps.
Personalised & wearable pop art creations

British pop art artist Boyarde Messenger has been creating art for people to wear or collect for over 15 years. Celebrated for her bold yet playful pop style, hand-painted across many canvases, Boyarde delivers a visual feast through iconic imagery interlaced with her client's story.
Her brand prides itself on the highest quality and craftsmanship, where no detail is spared, and with her team of highly skilled artisans, Boyarde transforms items into objets d'art.
DISCOVER THE unique Davidoff & Boyarde Masterpiece Humidors & Cigars

What makes the Signature, Grand Cru, Aniversario and Millennium lines so different is the fact that they are all blended out of the same three main tobaccos (Olor Dominicano, Dominican San Vicente and Dominican Piloto) that were picked at different grades and also appear in different ratios in the blends.
This means each line delivers its own unique intense combination of aromas. A commonality is that they all stimulate all areas of the palate evenly.